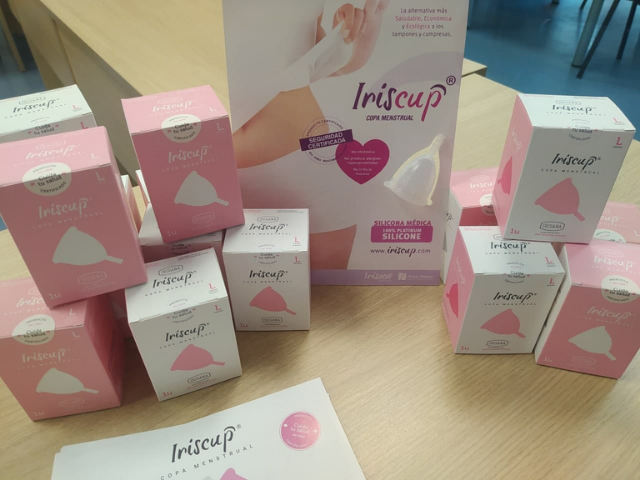 Irisana SA and the NGO Ecos do Sur unite in their commitment to eradicate menstrual poverty.


The Vigo company Irisana S.A. donates Iriscup menstrual cups to Ecos do Sur that will be used for social and health support programs that are carried out in the Coruña area and the metropolitan area with women users of the entity.
In addition, the technicians responsible for these programs will hold workshops on intimate hygiene so that women receive advice before using menstrual cups.
The use of menstrual cups offers a number of advantages. On the one hand the ecological and sustainable, by eliminating the waste generated in each menstruation; the economic one, since it saves money on pads and tampons and, on the other hand, the most responsible, in addition to the environment, with our health, since these cups are made with 100% platinum medical silicone, also counting with ISO10993 biocompatibility. The Iriscup cup is made in Spain.
Thanks to this donation we can improve the lives of women around us. The menstrual cup is an article of feminine hygiene that is easy to use, while helping women to know and understand their own body and their menstrual cycle. It also contributes to their commitment to the fight against menstrual poverty, since the use of the cup means savings over the cost of other hygienic products. The Iriscup menstrual cup lasts approximately 10 years.
For more information:
The NGO Ecos do Sur has 30 years of experience in social intervention, improving the possibilities of social integration of users and making migrations bear fruit in a more prosperous, fairer and proud society of its diversity.</ p>
Irisana S.A. It began its activity in 1986 and, since 2006, it has incorporated products for daily use in the field of ecology, health and the environment into its catalogue, whose motto is to be effective, economical, ecological and original. This company is concerned about reducing waste and has a staff made up of 90% women.