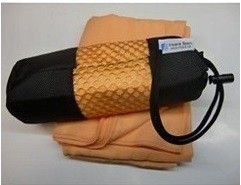 LIGHT FOR THE WAY:
To walk so many Km with the rucksack to slopes, advised me carry less weight of the that taenia foreseen. As it needed a towel to dry me after the shower in the hostels of the Way, bought atowel of microfibra Irisana. I checked that it is light, dry very fast and do not seat this feeling of humidity that with other towels happened me.
Besides, for my problems of sensitive skin and of smells, came me barbaric.
Hanged it of the rucksack after escurrirla, once used, and went me drying while we walked. When arriving to another hostel already the smart taenia to go back it to use.
When drying perfectly the skin, did not have problems in the feet by the bacteria or other germs, that sometimes goes through the humidity that remains if you do not dry you well.
Now recommend it to all the pilgrims that go to do the Way of Santiago.
Marta García 21-10-2015